Country music is one of the oldest genres of the popular and modern American music. It was developed in the southeastern states of USA. It is a mixture of:
Folk Music from British Isles
African American Blues
Church music
Some of the instruments used to play the music include the fiddle, autoharp, mandolin, and the acoustic guitar.
This music genre was recorded for the first time in 1920. The Carter family was among the famous and pioneer musicians of country music. Carter and his wife Sarah collected folk song and wrote new songs too. The Circle be Unbroken (By and By) is one of the famous songs by the Carter Family.
Famous country music artists
This music genre has talented and great musicians. Some of them are still popular and loved even in death. There are other upcoming musicians who have stolen the show and created a brand name for themselves.
Here is a list of some of the famous names in the industry
Kenny Chesney 1968-present
Willie Nelson 1933-present
Dolly Patro1946-present
Brad Paisley 1972-present
George Strait 1952-present
Johnny Cash 1932-2003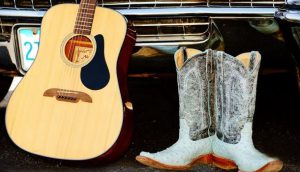 Generations
Country music can be classified according to generations. Each generation has its unique features. Also, each generation adds or improves a borrowed aspect from previous generations. Here is a list of generations and some of the prominent characteristics.
First generation 1920s
Second generation 1930-1940
Western swing and singing cowboys
Bluegrass gospel and folk
The instrumentation changed
Third generation 1950-1960
The Nashville and countrypolitan sounds
The Bakersfield Sound
Fourth generation 1970-1980
Country pop
Country rock
Outlaw country
Fifth generation 1990s
Sixth generation 2000s- present
Country music has been around since 1920. The music is still a classic. The happy love songs bring a lot of emotions while the sad ones bring tears to in our eyes. All in all, country is music is still relatable and relevant at this day and age.